| | |
| --- | --- |
| Posted on May 7, 2014 at 4:50 PM | |
Many dances I call/lead are part of a special occasion. On May 6, 2014, I was privileged to help Grove City High School celebrate 30 years of its high school German Exchange program with Max Planck Gymnasium in Heidenheim, Germany. It was also the welcome party for the German students visiting in this year's program. Over 100 people including students, parents, school officials, and various elected officials paricpated in the event.
We enjoyed a meal and danced in Eagle Pavilion at Rotary Lake in Fryer Park in Grove City, Ohio. We square danced, line danced, did a couple of country line dances and circle mixer dances along with some hip hop line dances. 
Please contact me to discuss how Fun Dancing with John Wargowsky can make your occasion more special.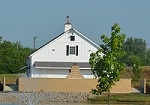 Eagle Pavilion at Rotary Lake